(214) 389-1254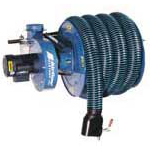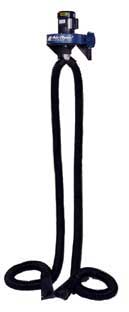 Vehicle Exhaust Systems
For vehicle service facilities large or small, Alpha Industrial Supply offers a complete selection of vehicle exhaust removal systems. In order to protect workers from potentially harmful exhaust fumes, we supply and provide installation of all needed equipment for maintenance and repair shops for automobiles, trucks, or heavy equipment.
Single- and Dual-Hose Systems: Our vehicle exhaust hose systems from Airflow Systems are designed for easy mounting on wall or ceiling. The standard systems include spring-loaded hose balancers that keep hoses off the floor and provide for easy handling, maneuverability, and safe equipment storage. In addition to the standard 3in. x 30ft. heavy-duty exhaust hose, we also have available both single and dual hose systems in 4.5in. and 6in. diameters for larger tailpipes and truck stacks.
Retractable Hose Reels: Suited for most any facility layout, retractable hose reels are readily accessible, and conveniently store the hose out of the way when not being used. Complete hose reel systems, including all needed tailpipe connectors or adaptors, are available in 3in., 4.5in., and 6in. sizes.
Portable Exhaust Removal Systems: Our portable system is the answer for small shops, or larger shops where the need for exhaust removal is intermittant or hard to reach with stationary systems. Our convenient portable VES comes with a stand and wheels, permitting easy, one-person maneuverability throughout the facility. The 3in. system comes with standard tailpipe connector, 30 foot hose, 6in. by 8 foot outlet hose, and a 24 foot power cord. It provides 225 CFM of collection power and operates with standard 115V power.