(214) 389-1254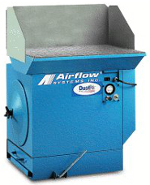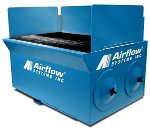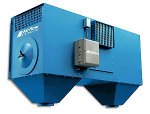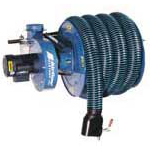 Products
Alpha Industrial Supply provides systems and supplies for all kinds of industrial needs. To achieve optimal indoor air quality for industrial facilities, we offer a broad range of dust collectors, mist collectors, extraction arms, downdraft tables, industrial and commercial air cleaners, and vehicle exhaust removal systems. For dust collection, industrial air filtration, machine mist extraction, weld smoke capture, or vehicle exhaust removal, we have the equipment to get the job done!
Dust Collectors
Our high-performance cartridge collectors feature the exceptional Vibra-Pulse® Filter Cleaning System and are available in many configurations:
Ducted collectors, from 1 to 18 cartridges
Portable dust collectors -- the industry-leading Airflow Sytems PCH Portables
PowerBooth™ free-standing backdraft units or modular dust collection booths
Self-contained downdraft tables
Free-hanging cartridge collectors for heavy-duty ambient filtration High-vacuum units
Mist Collectors
Alpha Industrial Supply is proud to offer the full line of Mist-Pak® Mist Collectors from Airflow Systems with their unique MistPlus® Contaminant Management System, achieving over 95% filtration efficiency with a low cost of operation.
Extractor Arms
Whether precision laboratory arms, heavy-duty industrial arms, or stainless steel arms, E-Z Arm® High Flow Extractors from Airflow Systems feature powerful source capture and easy operation.
Downdraft Tables
We offer a broad range of industrial downdraft tables from Airflow Systems, including:
Self-contained cartridge collector downdraft tables featuring the unsurpassed Vibra-Pulse® Filter Cleaning System
Downdraft tables designed specifically for safe collection of dust from aluminum processing and finishing (AL Series)
Ducted downdraft tables for easy integration into a central dust collection system
The Easy Bench panel filter downdraft table for finishing and lab operations
Air Cleaners
For ambient dust, mist, smoke, or fume, Alpha Industrial Supply provides air cleaners with a range of filters: general-purpose or application-specific media, multi-stage, self-cleaning cartridges, or panel filters.
Vehicle Exhaust Removal Systems
Need to remove potentially harmful fumes from your service facility? Alpha Industrial Supply offers complete solutions:
Single and dual-hose systems
Retractable hose reels
Portable exhaust removal systems
Don't see what you're looking for, or not sure what you need? Please ask us! We offer a broad range of equipment and also will be happy to provide a free on-site evaluation and recommendation to help you find the best solution for your industrial application.